A Dog is What A Dog Eats
and What Probiotics Say About That

FortiFlora
The Purina Veterinary Diets FortiFlora for dogs or cats restores and maintains the essential balance of bacterial flora in the gut. These balances are critical to the overall health of your pet including their immune, liver, skeletal and overall health as they contribute heavily to your pet's ability to absorb nutrients from their diet.
Purina FortiFlora for dogs is a nutraceutical or nutritional supplement that maintains and restores the critical natural flora with active cultures of enterococcus faecium probiotics and high levels of antioxidant vitamins. Purina Fortiflora Probiotics are safe, stable and effective in the dietary management of pets with diarrhea.
Vetri-Science Probiotics
The Vetri-Science Probiotic products contain eight specific probiotic strains from non-dairy sources all which support proper digestive tract health. FOS, a soluble fiber and prebiotic which supports the natural proliferation of intestinal probiotics, delivers additional benefits.
Why Are Probiotics A Good Thing?
Is your dog's nutrition what you think it is? In your store of choice, you carefully review all the dog foods available. Perhaps you screen for type or age of dog, maybe you have a favorite brand. You might even be so selective that you review the list of ingredients and the nutritional information.
Presuming that you are proud of your selection, it's balance of protein and fat and vitamins and minerals without too many fillers, chemical fillers, how much do you really know about the nutrition that food delivers to your dog?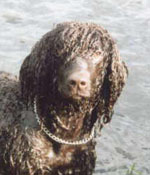 We all seem to assume that the nutrition illustrated on packaging is any less that what is delivered, but the fact is that many factors determine how much nutrition makes it to a body. Sometimes, illnesses like pernicious anemia can block the absorption of nutrients. More commonly other factors like the overall health of the individual or even their level of hydration can play a role.
Obviously nutrition is inextricably tied to overall health and health is tied to the quality of the nutrition received. For many years, animal professionals have been aware of probiotics. Probiotics are a whole different area of nutrition, separate from vitamins, minerals, protein, those things we call nutrients.
Instead, probiotics are literally beneficial flora, bacterian that help with the digestive process. Their participation is critical in the case of ruminants. Without them, goats, cattle and horses can dehydrate and die quickly. Many people have been asked to feed their cats yogurt after the feline showed an affinity for eating soap (which killed the probiotics in their gut).
Today, much more is understood about the beneficial bacteria residing in the intestines of dogs, this allows companies to provide probiotics as a supplement to a dog's diet. While all dogs could likely benefit from this supplementation to help maintain the proper balance, dogs that are convalescing, chronically ill or seniors would benefit even more significantly.
Of course this also means that a bevy of products abound with minimal to no value. Namely among these would be dog foods claiming to include probiotics. Unless the food was treated after processing, it is not even possible for the probiotics to be helpful. Why? Because the heat involved in processing kibble kills the beneficial bacteria.
Probiotics for dogs like FortiFlora and Vetri-Sciencecan be particularly helpful to dogs who suffer from irregularity (constipation) or diarrhea but only if the product is suitably administered and efficacious. Be confident of the first by reading instructions and following carefully. Increasing dosage beyond what is recommended will not improve results or speed them up. Educate yourself on how probiotics work and how they can be offered so that you can address the second issue and be sure that the product you choose can provide the results you need.
Order Probiotics
To order FortiFlora probiotics click here.
To order Vetri-Science Probiotics please click here.
Choose the correct version of the selected product for your pet, and quantity. These top quality pet probiotics are available here at the lowest prices online. Guaranteed! FREE shipping is included on qualifying orders. Order before 4pm EST for same day shipping!